Education & Kids
教育 / キッズプログラム
Kids Program

supported by Petit Bateau



キッズプログラム
Kid's Passport
A "KYOTOGRAPHIE Kid's Passport" is distributed for the benefit of more children to enjoy festival. The colorful brochure is presented in the form of a passport, and is packed with various activities of interest to children that they can enjoy at the exhibition venues.

The Kid's Passport features a stamp rally section for children to collect stamps at the different venues in KYOTOGRAPHIE. A special present will be gifted to children who have managed to collect all stamps.
Kid's Events
A series of talks by exhibiting artists and invited guests are scheduled, in addition to workshops for children. Please check the events page for details.


Thoma Poulin, CM2 "Un Géant"

Lycée Français International de Kyoto
2018 Winner
Hajun Noh, Grade 3 "Umbrella"

Osaka International School
2018 Winner
佐野 大樹, 5年3組 "光 UP(ライトアップ)"

Takakura Elementary School
2018 Winner
KYOTOGRAPHIE
School Competition 2018
Which way is Up?
KYOTOGRAPHIE Kids Competition Exhibition
"Which way is Up?"
ROHM Theatre Kyoto Park Plaza 3F
4/28 - 5/13|Open Everyday|10:00-19:00

Support: Rotary Club of KYOTO-RAKUSAI
In Collaboration with FUJIFILM
Partnership: Kyoto City Board of Education
Organizer: KYOTOGRAPHIE, KG+, ROHM Theatre Kyoto
KYOTOGRAPHIE Kids Competition Award Ceremony
ROHM Theatre Kyoto Park Plaza 3F
4/28 14:30-16:00(Open 14:00)

The KYOTOGRAPHIE School Competition 2018 was open to all schools in Japan, to students from grade 1 to grade 8. After learning the base of photography using the KYOTOGRAPHIE School Tutorial, children were invited to explore their own interpretation of the word «UP» in a photograph. We received 300 applications. KYOTOGRAPHIE's team has been amazed by the creativity of the work submitted!
The jury will announce:
1 to 3 winning photographs per participating class or group. Each winner will receive KYOTOGRAPHIE goods, and their print from the exhibition. FUJIFILM will grant the 3 grand winners with a FinePix digital camera. Thanks to our partners Breizh Café and Grand Marble as buffet will provide cakes and drinks to the participants.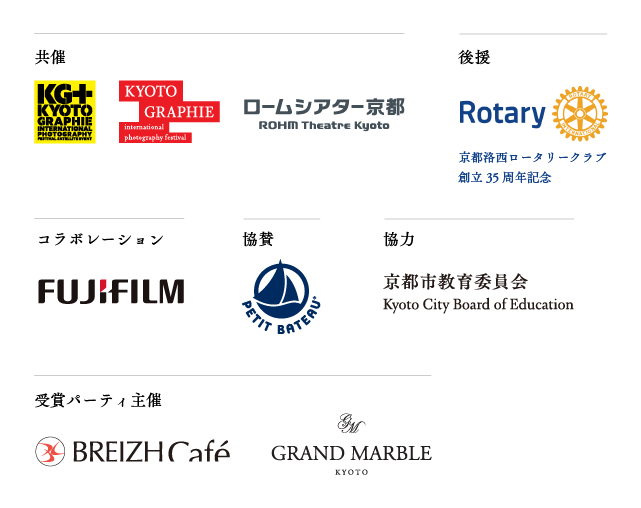 Photography Lesson Guide
写真レッスンガイド
KYOTOGRAPHIE developed a Photography lesson to guide teachers and support the introduction of photography in the classroom. Please download from the buttons.